Leveraging Sponsorship and Partnership Initiatives on Your Corporate Website: a look at Rugby World Cup partners

Margot Fourcade
|
08 Nov 2023
Sponsorship and partnership initiatives can drive attention to your company's web presence and serve as compelling support for corporate responsibility claims.
Even if these initiatives do not neatly fit within your sustainability section—particularly if they don't directly align with environmental, social, or governance efforts—they should not be underestimated. Visitors may come to your site to learn about your partnerships, and they are a valuable opportunity to build your reputation. 
In the following examples, we explore how companies leveraged their partnerships with the recent Rugby World Cup across their corporate digital estates.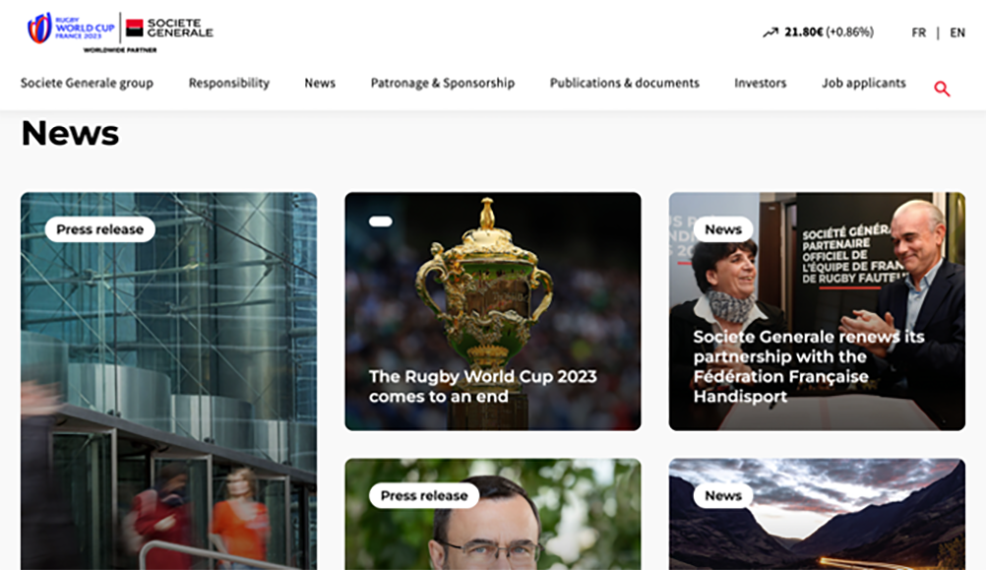 Société Générale's home page featured two articles related to rugby a week after the conclusion of the world cup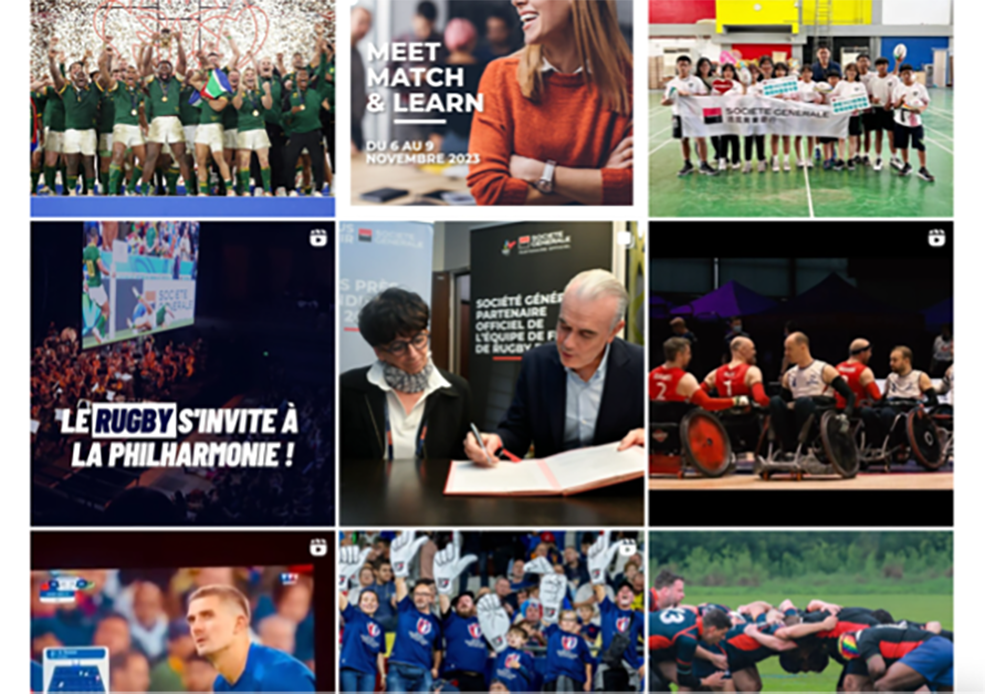 The company's Instagram posts heavily feature rugby-related content
The Rugby World Cup took a prominent position on Société Générale's website, and the company's corporate social media channels. One week after the final match, two out of five articles on the company's home page were about rugby. Across all of the company's social channels, rugby-related content dominated, encompassing the World Cup, local club events, and support for the Wheelchair Rugby Federation. 
Société Générale effectively leveraged its partnership to generate a wealth of editorial content that underscored their commitment to the sport and related causes. Their corporate estate strongly showcased their interest in rugby, likely engaging rugby enthusiasts who visited the site or social channels during or after the competition. The visibility given to related partnerships, such as with the Wheelchair Rugby Federation, also positioned the company's involvement in the sport as a catalyst for broader responsibility initiatives. 
Capgemini and Mastercard – Integrating Rugby into the Corporate Message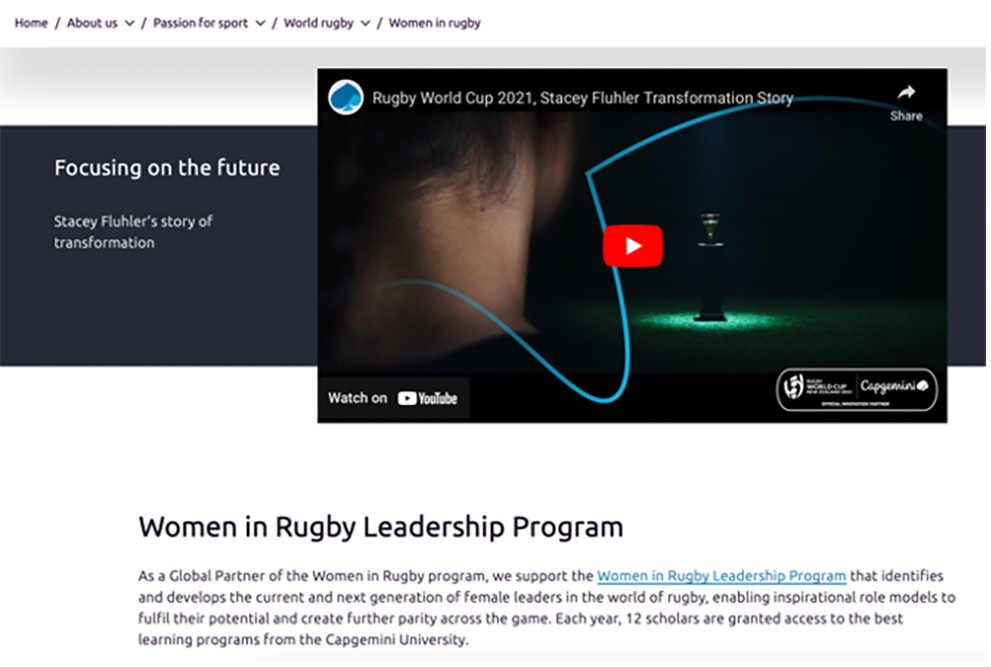 Capgemini's "Women in Rugby" page showcases the company's commitment to the growing women's game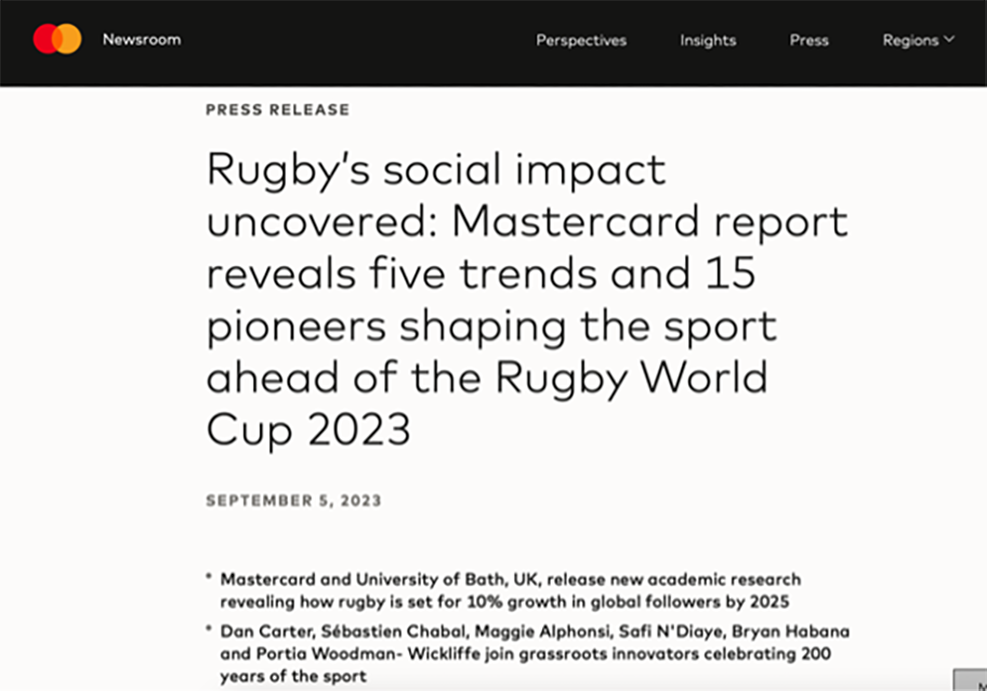 Mastercard's academic report highlights the social impact of rugby
Capgemini offers an entire section dedicated to the sport under About Us > Passion for Sport > World Rugby on its corporate website.This provides visitors with a clear destination for rugby-related information and ensures that Rugby World Cup coverage retains visibility once the competition ends.  
Editorial content also emphasises the shared values and mutual contributions between Capgemini and the sport of rugby. For instance, articles spotlight the use of technology in rugby and the sport's role as a champion for diversity and inclusion. Capgemini also sponsors a "Women in Rugby Leadership Programme", prominently featured in the rugby section. Mastercard has adopted a similar approach by partnering in academic research on the social impact of rugby.  
By integrating discussions about rugby in the context of the company's areas of expertise and existing corporate responsibility initiatives, this approach ensures that content related to the sport remains relevant on the corporate site, even after the World Cup has concluded.