The Bowen Craggs Index™
The window to the best of corporate digital communications
We benchmark the world's largest companies to create the Bowen Craggs IndexTM.
This trusted resource gives our clients a unique window to the best of corporate digital communications covering all corporate channels, audiences and topics.
Organisations that are serious about their external communications and owned media make sure they have access to the Bowen Craggs Index, so they can see how they are doing and learn from those who are doing it better. Our clients use the best practice contained within the Index to save time, avoid costly mistakes, and continuously improve their own performance.
We have been compiling the Index for more than 20 years and we know there is no standing still. If you are not improving, you are slipping behind.
The Bowen Craggs IndexTM Snapshot 2023
Take a glimpse through our window and find out how the best in corporate digital communications look right now.
The best corporate digital communicators in the world face the same problems as everyone else. They've just found better solutions.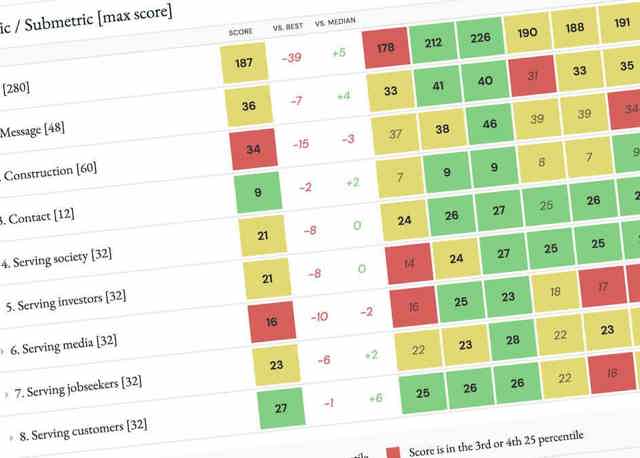 Bowen Craggs Benchmarking Methodology
The foundation of the Bowen Craggs Index is our benchmarking methodology, tailored to the needs of corporate digital channels. We evaluate the performance of the core corporate website and social media channels, and any channels in a company's digital ecosystem that are used to communicate with stakeholders, such as country and regional presences, careers sites, campaigning or educational sites.
Unlike mass media or e-commerce websites, which often have only one job to do, corporate digital channels are uniquely complex. They are multi-functional and serve many different internal and external stakeholders. Having a consistent, repeatable process to audit performance is vital for organisations looking to improve.
To add to this challenge, corporate digital communicators need to constantly adapt their approach to meet the ever-changing expectations of your corporate audiences. The good news is that our benchmarking methodology evolves to keep pace with this changing landscape and has done so since its inception 20 years ago.
We use standardized metrics to assess and score the following areas of your company's digital estate:
Construction - navigation, orientation, accessibility, carbon efficiency and integration of all digital channels
Message – what messages do your online channels convey to visitors? Is company information detailed and easy to find?
Contact – is it easy for all key audience groups to contact your company?
Serving society – an in depth look at the quality of responsibility and sustainability information across your digital channels
Serving investors – how well does your online presence cater to fund managers, financial analysts and individual investors?
Serving media – can journalists easily find relevant news, press releases and background material?
Serving jobseekers and employees – do your website and social media channels provide a good experience for jobseekers,  and are you employees represented effectively?
Serving customers – our research shows that customers are visiting corporate channels, will they easily find what they are looking for?