The latest best practice in presenting digital annual reports

Caterina Sorenti
|
21 Sep 2023
From bespoke editorial content to videos of CEO statements – Caterina Sorenti temporarily sets aside the question of whether to integrate reporting to consider four examples of the very best in innovation in annual reporting 
Companies are spending more time and money on digital annual reports, whether integrating them into the "Investors" section, or opting for a secondary site. As a starting point, we advocate for integrating reports into the main site whenever possible, because of the synergies it brings. However, for some companies the separate site gives room for striking visuals and a magazine-style feel that the main site may not yet offer. For this article, we are focusing on great digital annual content for investors, regardless of where it is housed. Here are four examples of the very best in innovation in annual reporting, from bespoke editorial content to videos of CEO statements.
1. BP

BP's integrated annual report with prominent signposting to PDF information and related links
BP opt for a tightly integrated annual report within their "Investors" section. Split into four main categories, including "Strategy", "Business Model", "Remuneration" and "Key downloads", key areas of the report are highlighted using infographics or pulled-out statistics. Fragmentation is also reduced, as all information is placed in this centralised location, making it easy for visitors to read and digest. There are also strategic links to PDF parts of the report, as well as relevant material across the site.
2. BASF

BASF's impressive home page, providing a glossy overview
BASF have chosen to present their annual report on a separate site, which allows the company to play with striking visual elements, as well as designate entire sections to "Corporate Governance", "Financial statements" and more. The magazine-feel of the site's home page provides a "glossy overview", allowing striking features to stand out, including a video of the CEO statement. The only drawback with any annual report on a separate site is its fragmentation from the main site, meaning that key "About" information cannot be accessed (though there are clear links to "Corporate Governance").
3. Hugo Boss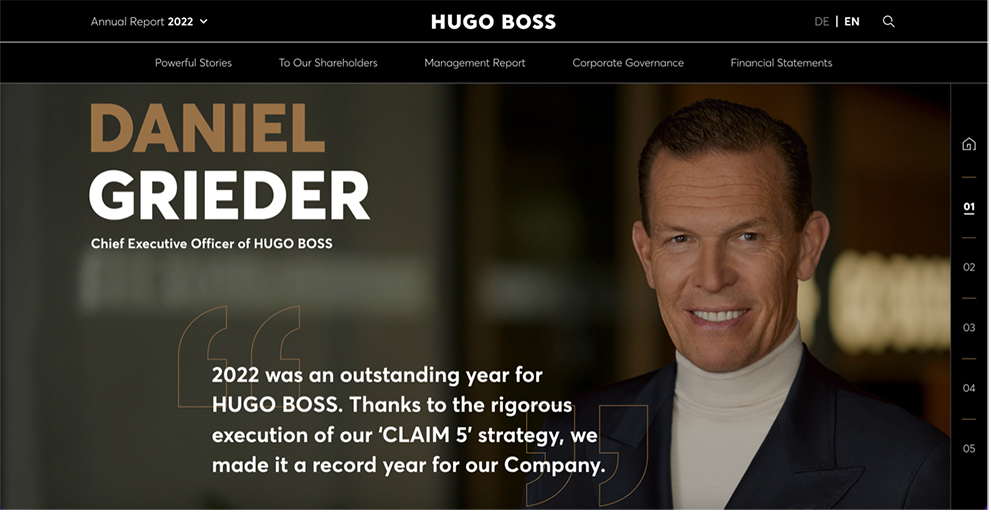 Hugo Boss' bespoke editorial content for their separate site is a strong addition
Hugo Boss' engaging annual report, also presented on a separate site, has a "Powerful Stories" section, a new way to generate content from the annual report. From "Powerful Brands" to "Powerful People", these stories - with striking looping videos and authentic imagery (particularly in the case of employees) – provide further insight in a creative way, as well as linking to relevant "chapters" of the annual report.
4. P&G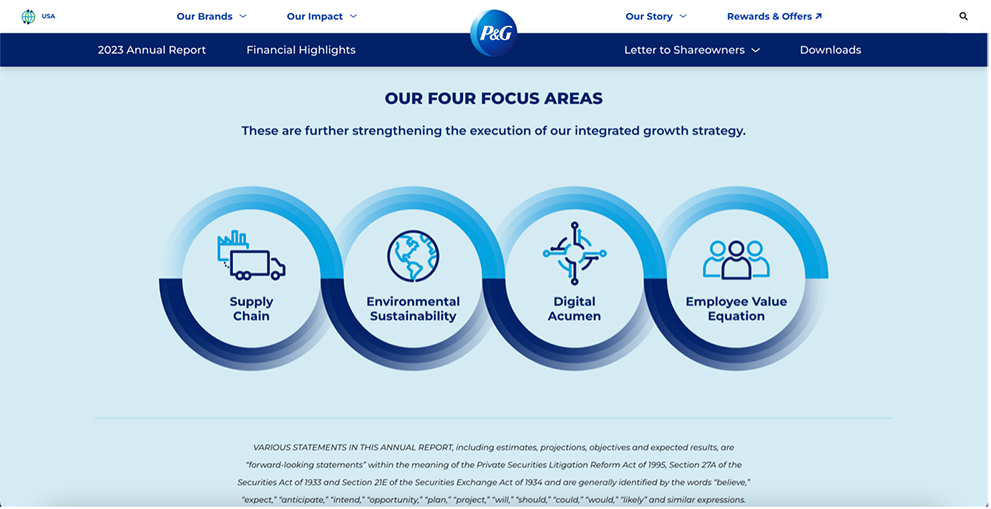 Financial information in infographics offers an at a glance summary which does not sacrifice visual impact
P&G's integrated annual report excels in usability, with the main site's primary labels and company information available for visitors to refer to as they read through the report. A real strength here is the company's excellent infographics, which pull out important statistics from the report in a dynamic and easy-to-read way. This will be particularly helpful for sustainability analysts, who can cross-reference this excellent HTML information with the "Our Impact" section. Often, companies neglect to include infographics from PDFs on their main sites, so this sophisticated approach makes the most of the annual report's performance data.