Telling your sustainability story in a mixed-up world

Jason Sumner
|
14 Nov 2023
Top notch sustainability communication is rare on the corporate web.
This is one of the main takeaways from our annual Bowen Craggs Index Snapshot, which highlights the best in corporate digital communications.
It's clear from what we've seen in the last 12 months that most companies need to be far more sophisticated about the way they communicate their environmental and social strategy.
If you are one of the companies falling short, you are far from alone. That's because it's so complicated to know what to say and how to say it.
Regulators, many investors and some parts of the public want more disclosure on environmental, social and governance (ESG). On the other hand, the media will punish any mismatch between intentions and behaviour. If your company operates in both the US and Europe, the difference in attitudes across those geographies has never been more fragmented.
Here are three ways the best companies in the Bowen Craggs Index use their websites and social media to cut through confusion and tell their sustainability story with credibility. 
Index leaders do not deal in generalities when it comes to sustainability communications. It is the difference between, for example, Microsoft's vague corporate global home page headline "Empowering others" and Nestlé's recent home page heading promoting its policies to advance "regenerative agriculture". Getting specific is only the beginning of effective digital communication, but it's a good start. 
2. Highlight your partnerships 
Third-party partnerships between companies and NGOs immediately confer credibility on corporate claims. If you have a partnership that is working well, invest the time to share it with your stakeholders. See UK-based insurer Aviva's "Aviva and WWF" page for one of the best examples to follow.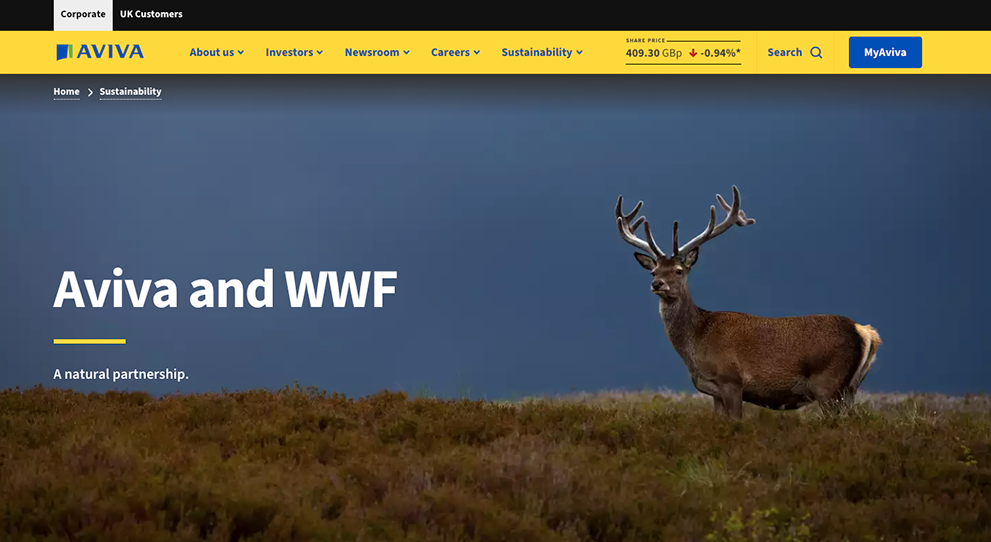 Aviva highlights its partnership with WWF
3. Aim for the right balance between narrative and data  
The people for whom sustainability is their job want quick access to comprehensive data, and you need to satisfy them. But they are a small audience. Everyone else who visits your corporate digital presence wants a narrative. How are you changing your company to get to net zero? Who is benefitting when you invest millions in a community programme? Give them stories they can't disagree with.   
See Verizon's video case studies featuring the beneficiaries of the US-based telecommunication giant's investment in schools for best practice. They balance this story-first approach with a one-stop-shop "ESG Resources Hub" for the professionals.