Taking a "Mixternal" approach at Nestlé

Georgia Barrett
|
19 Sep 2023
Georgia Barrett discusses the growing overlap between internal and external communications with Amy Howard, Head of Internal Communications and Employee Engagement at Nestlé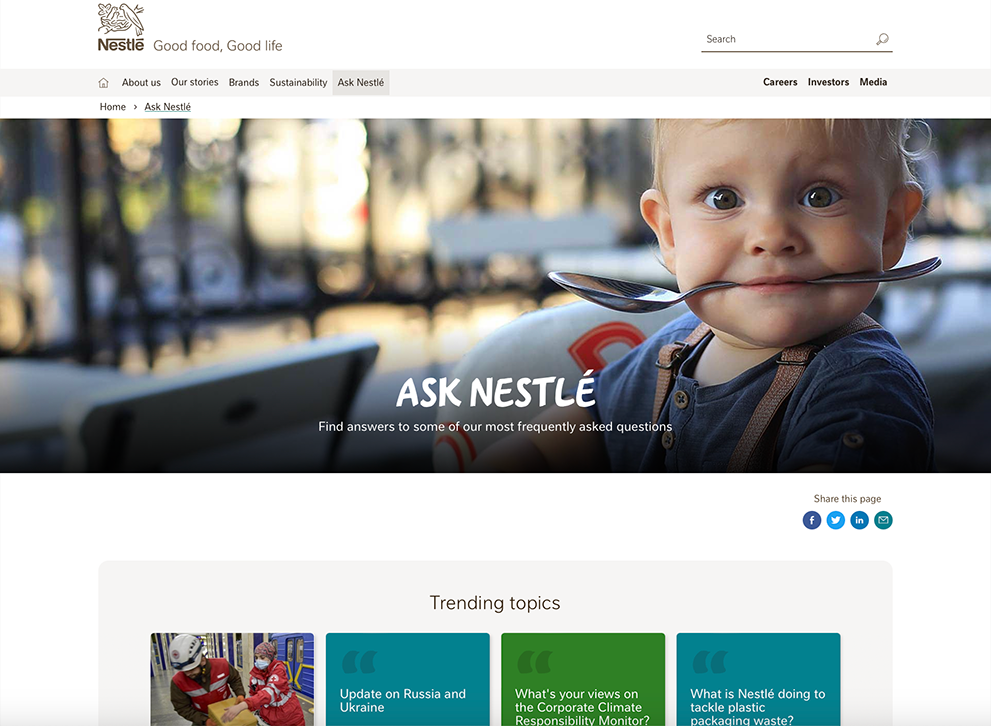 Amy helped created Ask Nestlé, the best-in-class FAQ section that is, to date, unparalleled by any other company
I was lucky enough to sit down with Amy Howard, Head of Internal Communications and Employee Engagement at Nestlé. In her role, Amy is responsible for communicating global corporate topics to an audience of over 270,000 colleagues. Before she went to the internal side, Amy worked on Nestle.com, where she helped create Ask Nestlé, the best-in-class, ever-growing FAQ section that is, to date, unparalleled by any other company.
At Bowen Craggs, we have talked a lot about the differences between internal and external communications, and where they converge. Are the lines between the two blurring as companies move towards more authentic and transparent communications, something key stakeholder groups increasingly want? According to Amy, the answer is definitely yes. And Nestlé is taking an interesting approach.
What is "Mixternal"? 
Amy describes "mixternal" as content that is produced for multiple audiences – internal and external – right from the start. "It's a term we've adopted from our colleagues in the US. It helps us be as effective and as efficient as possible with great stories, content and creative assets."
At Nestlé, internal and external communications are closely aligned. Amy told me that the internal channels they have almost mirror the external ones. "We have an internal social media network, and our intranet is like an internal version of Nestle.com, but we make a point not to replicate content. If a question can be answered on the external site – on Ask Nestlé for example - then we direct colleagues there through our intranet search."
Pointing internal stakeholders to information on Nestle.com simplifies things and saves time and resources. "What's great about using an external resource is that employees can access it from anywhere and can then share that content with anyone, such as your aunty or your friend who is asking questions about a specific topic," said Amy. "We see a high number of our employees visit Nestle.com."
The alignment does not stop there. Amy's internal communications team sits within the global corporate communications function, and the topics published internally are often the same ones being shared externally. "The topics maybe the same, but the way we talk about them could be different. Sometimes we adapt the language or highlight specific project teams or individuals behind the story," said Amy. This consistency is reassuring: employees see the same side of the company inside as they do on the outside.
In a similar way, internal content that shows what life at the company is really like is frequently shared externally. Showcasing and engaging employees on external digital channels is something Bowen Craggs focuses on in metric 7.3 of the Bowen Craggs Index. This is because sharing personal stories fosters a sense of community inside a company, but it can also shape a company's reputation externally, too.
"Employees can help build our reputation externally." said Amy. "We see a lot of colleagues posting content on platforms like LinkedIn. They share news that makes them proud or why it's great to work here." Nestlé has an ambassador programme to support employees who do just this. Amy's team shares guidelines and offers preloaded content and support for situations when employees encounter difficult questions on social media.
The importance of hearing directly from employees is something we found in our Bowen Craggs Next Generation research project in 2022, where we asked a variety of stakeholders aged 18-30 from around the world and in different roles what they really want from online corporate communications. We found that jobseekers in particular want to see the "real" side of a company: as one participant put it, "things like a 'Day in the Life' are more authentic because it comes from the actual people themselves, it's a bit less filtered than when it comes directly from the company."
Amy also sees the importance of embracing what she calls more spontaneous 'rough and ready' communication. "Getting your phone out, doing a film and taking a photo is something that we're doing a lot more. Last year we recorded an entire show, about climate action, on smartphones. Colleagues across six continents shared their stories without anyone getting on a plane! It was heartfelt and very emotional. There is still a place for more formal, high-production content, but our aim is to create a connection and there are lots of different ways to do that."
Authenticity equals transparency 
Getting a snapshot into the homes and daily routines of colleagues during the Covid-19 lockdowns was one of the starting points for this type of authentic communication, but Amy does not think it's solely down to Covid: "I think that's the direction a lot of comms are going and this 'mixternal' approach can help. We're seeing more and more of our employees starring in stories we use externally, which is a great way to show a more personal side of the company."
Amy pointed out that in a world where fake news and AI-generated content are becoming increasingly common, trusted sources of information will be even more important, and employers have an important role to play. This bears out in recent reports from Edelman that show employees have higher levels of trust in their employers compared to many other sources of information. "Our aim is to keep it simple with high quality, engaging content – ideally in the right place, at the right time! Our new intranet, with an advanced search function, plays a central role there."
Talking about purpose and values both internally and externally, and sharing employee stories both inside and out, are all transparent, trusted and reassuring ways of communicating.
For Amy, employees are one of the company's most important stakeholders. It is clear to see that giving colleagues the power to tell an organisation's story has major benefits, both internally and externally.