Navigating Pinkwashing in Corporate Communications

Margot Fourcade
|
06 Jul 2023
Corporate communications teams are well aware of the risks of greenwashing, but during Pride month, they also face the prominent issue of pinkwashing
Pinkwashing, also known as rainbow washing or pink capitalism, refers to companies using the occasion as a marketing opportunity without making meaningful contributions to the LGBTQ+ cause.
Similar to greenwashing, accessible resources shed light on companies' commitments, or lack thereof, to LGBTQ+ communities. Investigations often uncover monetary support to lawmakers backing anti-LGBTQ+ bills, creating controversy when it contradicts claims of support. On the other hand, even basic signs of support can lead to backlash from right-wing groups.
Navigating this delicate situation, corporate communications teams must strike a balance. Saying too much risks boycotts, while saying too little may result in accusations of performative pinkwashing. Here are three things to remember to find the right equilibrium.
1. Back up your claims
To avoid or address pinkwashing allegations, it is crucial to provide transparent information about your support and contributions to LGBTQ+ groups and initiatives. Transparently showcase your internal and external efforts to support LGBTQ+ communities. Highlight initiatives that demonstrate inclusivity within your company, such as employee profiles and testimonials. Also consider maintaining a dedicated webpage on your site that transparently showcases ongoing support and activities, including donations to LGBTQ+ organizations.
Accenture - Leading the way in inclusion and diversity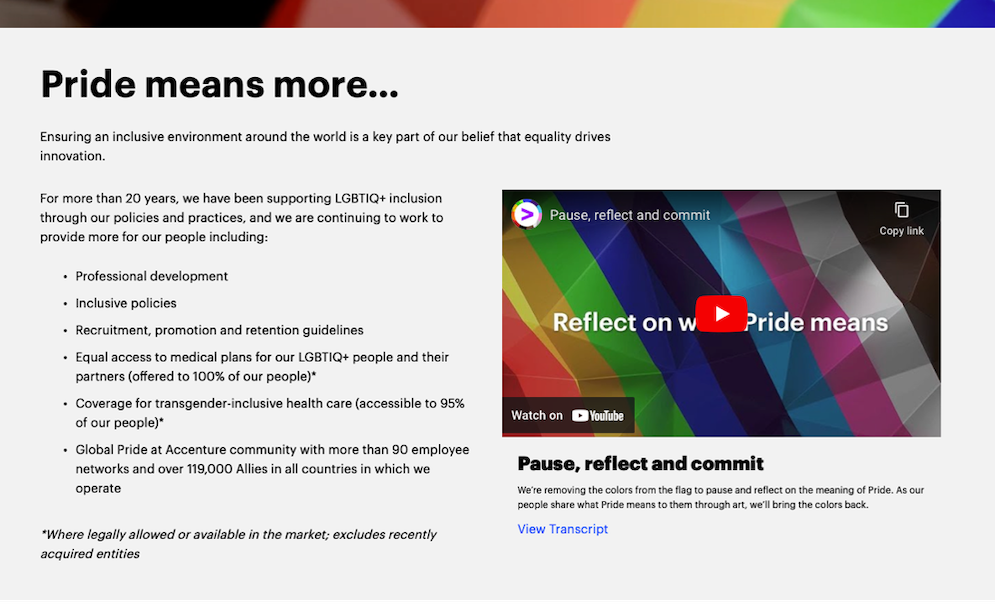 The top of the 'Pride at Accenture' sub-section provides a clear list of ways in which the company has historically demonstrated its support for LGBTQ+ communities
Accenture sets an excellent example with their dedicated Diversity and Inclusion section, located under the 'About' tab. This section covers various issues, embracing intersectionality and offering distinct sub-sections. Their LGBTQI+ section presents engaging content such as videos, quotes, information about partnerships and awards, employee profiles, and impactful projects benefiting LGBTQI+ communities. It remains active and updated year-round, extending beyond Pride month.
American Express - Spotlighting LGBTQ+ customers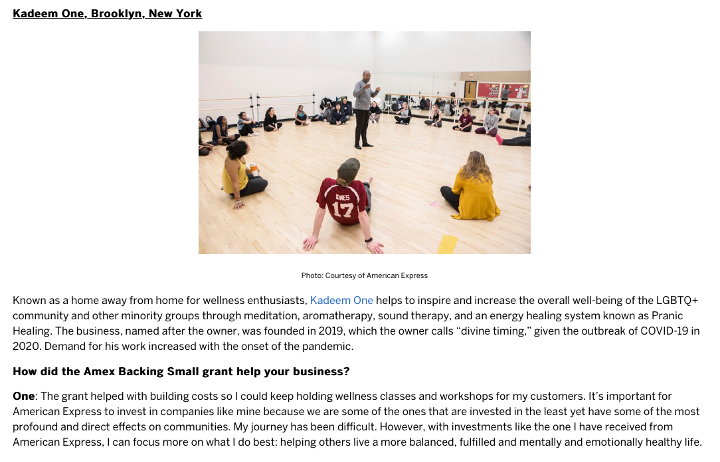 Stories showcased on the "With Pride: American Express Celebrates Stories of LGBTQ+ Small Business Owners and Grant Recipients" make for convincing back-up to the company's claims of support
American Express takes an original and compelling approach with a dedicated page celebrating stories of LGBTQ+ small business owners and grant recipients. This platform amplifies their voices, provides visibility to their communities demonstrates support beyond mere marketing.
2. Strive for consistency or prioritize transparency
Instances like Target and Bud Light retracting their pride campaigns due to right-wing backlash underscore the importance of addressing controversies openly. Even when offering minimal support due to fear of backlash, maintaining consistency remains crucial. Utilize your company's digital presence as an opportunity to explain actions, provide additional information, and showcase ongoing efforts despite challenges.
The North Face - Resolute in their campaign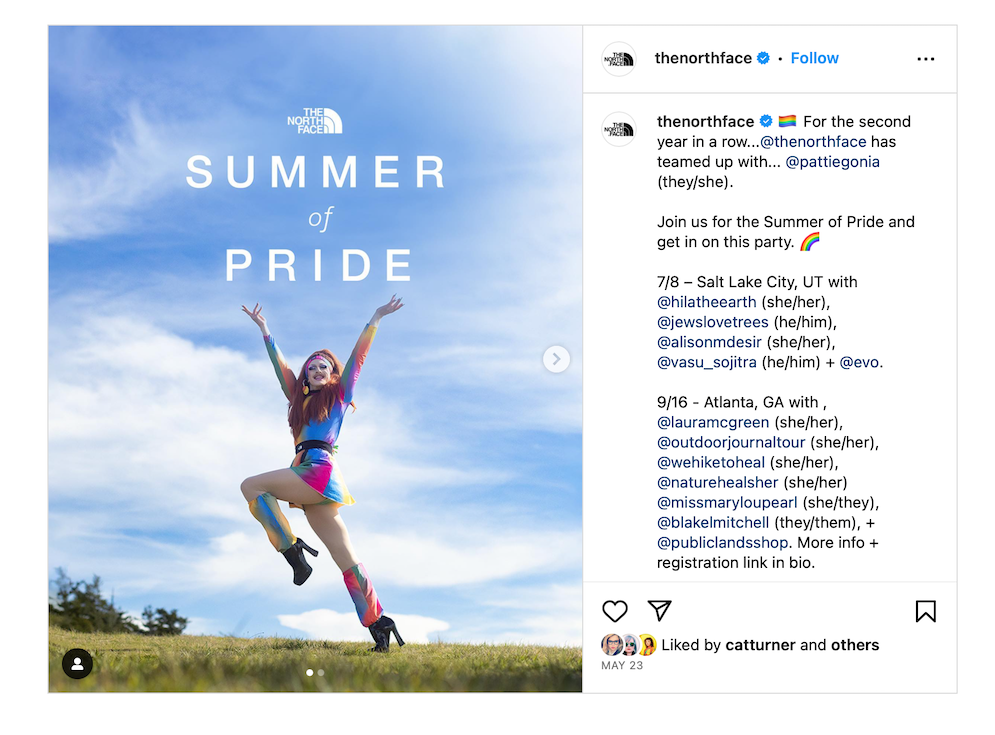 The controversial post on the @thenorthface Instagram page has not been deleted, instead the page's administrator has disabled comments, so negative feedback is no longer visible when viewing the post
Following the Target controversy, The North Face also faced criticism for partnering with drag queen Pattie Gonia in their Summer of Pride campaign. However, rather than deleting the post or withdrawing support, the brand stood firm. A spokesperson conveyed a powerful message to Newsweek, stating, "The North Face has always believed the outdoors should be a welcoming, equitable, and safe place for all". Although we could not locate this statement on The North Face's corporate digital platform, it significantly influenced the perception of the company's support for LGBTQ+ communities, earning praise for enduring the backlash.
The LA Dodgers - Listening and communicating openly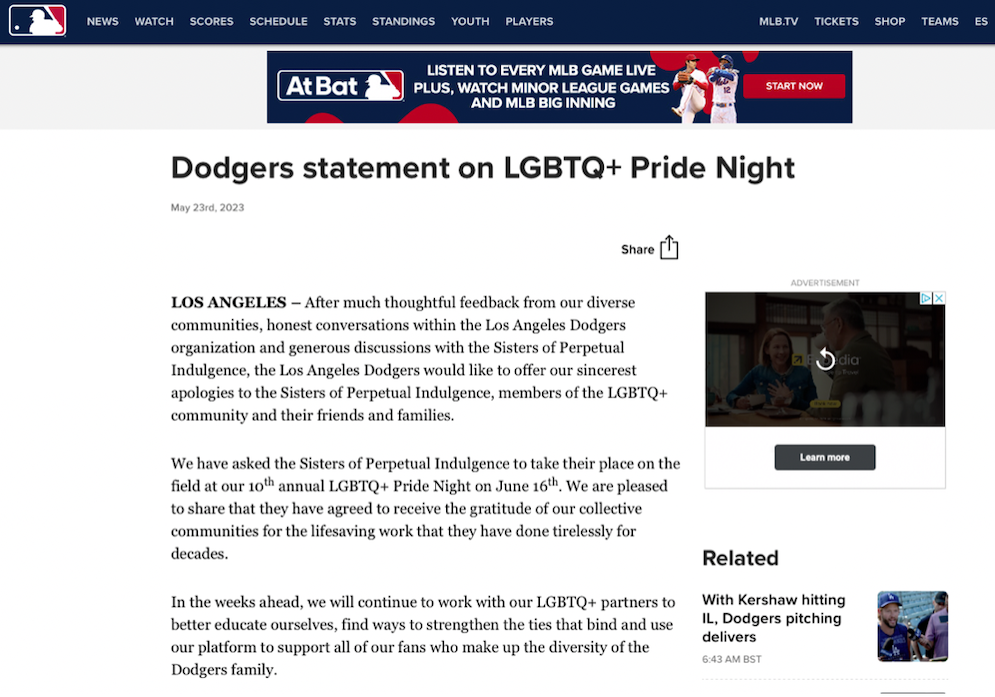 The club's follow-up statement, posted on the mlb.com site, reads as a genuine understanding of the situation and explains the reasoning behind the final decision
While not a corporate entity, the LA Dodgers set an excellent example by actively listening to LGBTQ+ communities during Pride month. Initially, the baseball club uninvited a group of drag queens, The Sisters of Perpetual Indulgence, from their annual pride event, acknowledging the strong feelings of those who were offended. However, a few days later, the club published a new statement, explaining that they had received feedback, engaged in conversations with the LGBTQ+ communities, and ultimately re-invited the group. This serves as a noteworthy illustration of how effective communication can be when navigating controversy, with both statements reflecting genuine reflections of the club's thought process.
3. Listen attentively to your LGBTQ+ communities
Even with the best intentions, corporate communications teams that fail to actively engage with and listen to LGBTQ+ communities risk overlooking the true essence of Pride. To ensure that your communications resonate authentically, seek knowledge from LGBTQ+ organizations and invite input from community members. Addressing concerns and amplifying voices from marginalized LGBTQ+ communities is vital and can only be achieved through collaborative efforts. It is equally important to address LGBTQ+ issues and maintain community engagement throughout the year, rather than confining your efforts solely to Pride month. If your communications come to a halt between July and the following June, you may be missing the mark.
P&G - Emphasising visibility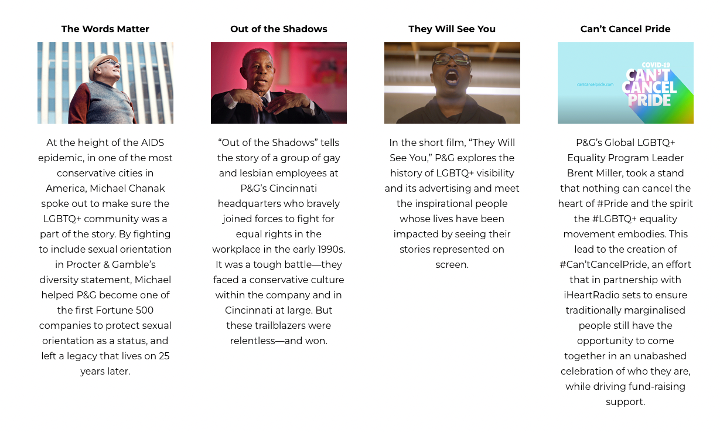 P&G's 'Be seen, be heard, be proud' section offers compelling insights into the work of employees towards equal rights and inclusion in the workplace, simultaneously making them seen, heard and remembered
P&G firmly grounds its support for LGBTQ+ communities in the company's history, specifically by showcasing the bravery and efforts of its employees since the 1990s. The webpage's structure, framed around the themes of "be seen, be heard, be proud," highlights LGBTQ+ inclusion and support in terms of visibility. This approach gives communities a voice on the corporate site, while also emphasizing partnerships with recognized LGBTQ+ organizations and providing links to their respective sites. By focusing on visibility, P&G demonstrates its commitment to LGBTQ+ communities and fosters a sense of empowerment.