Corporate TikTok? Three paths to a successful presence on the platform

Margot Fourcade
|
21 Nov 2022
TikTok is one of the latest social channels companies are considering for corporate communications
TikTok has yet to gain the legitimacy and credibility of LinkedIn, Twitter or even Instagram for corporate communications. But with over a billion people on the platform, more active monthly users than Twitter and more Gen-Z members than Instagram, TikTok should not be underestimated or forgotten. Any company looking to reach young customers and jobseekers or hoping to make a good impression on young journalists and analysts should consider what it has to offer.   
Browsing through the few TikTok accounts I did find among our top Index companies, I noticed that a corporate presence on the platform follows one of three paths to success. 
1. Using TikTok in an informed and authentic way creates great opportunities for both marketing and corporate communications  
Verizon (57.9k followers) and Intel (133.3k followers) both make knowledgeable use of the latest trends. They produce videos that users will recognise as authentic to the platform, whether they cover careers, company culture, products and services or responsibility information.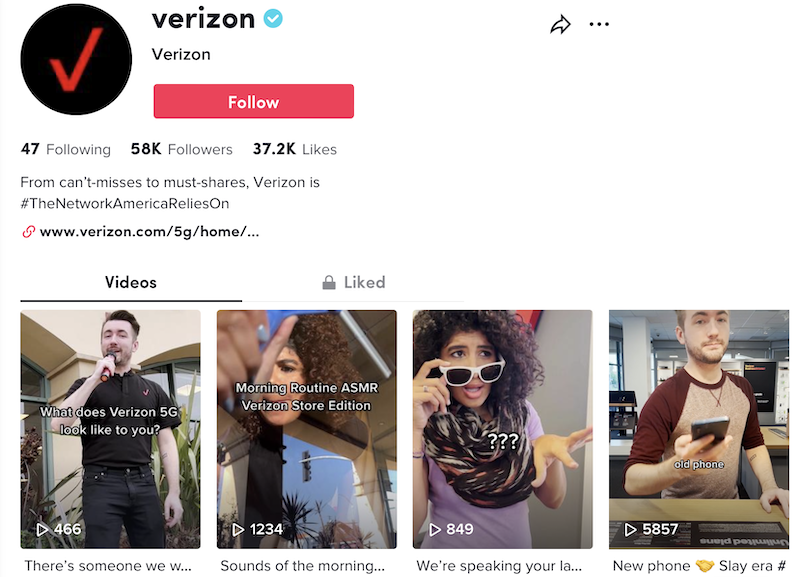 On TikTok, metadata is not limited to tags and hashtags. Users can browse all the videos which use a specific sound, often an extract from a song, or other recognizable speech from popular culture or already viral content. They can also browse by filters, which either visually distort the videos (eg. making the person featured appear with a frown or big eyes) or are interactive, providing a prompt or attributing a characteristic to the person on the screen. This may appear unintelligible or random to those who are not familiar with content on the platform. Regular users, however, will instantly identify sounds and filters, and expect the content of videos which use them to follow certain patterns.   
Verizon and Intel make an appropriate and informed use of trending sounds and filters, and their content has unquestionably been successful - Intel has gathered over 1.9M likes so far. But this is not where the platform's influence ends: links in the account's bio mean other parts of the digital estate can become a few clicks away for visitors that may have not otherwise looked for them! For instance, Verizon offers a link to Responsibility > Digital Inclusion > Verizon Innovative Learning on the main corporate site, which increases visibility for the corporate site, and acts as a useful signpost to a relevant page for the likely audience.  
2. A more formal tone is no barrier to success for corporate accounts, as long as there is engaging content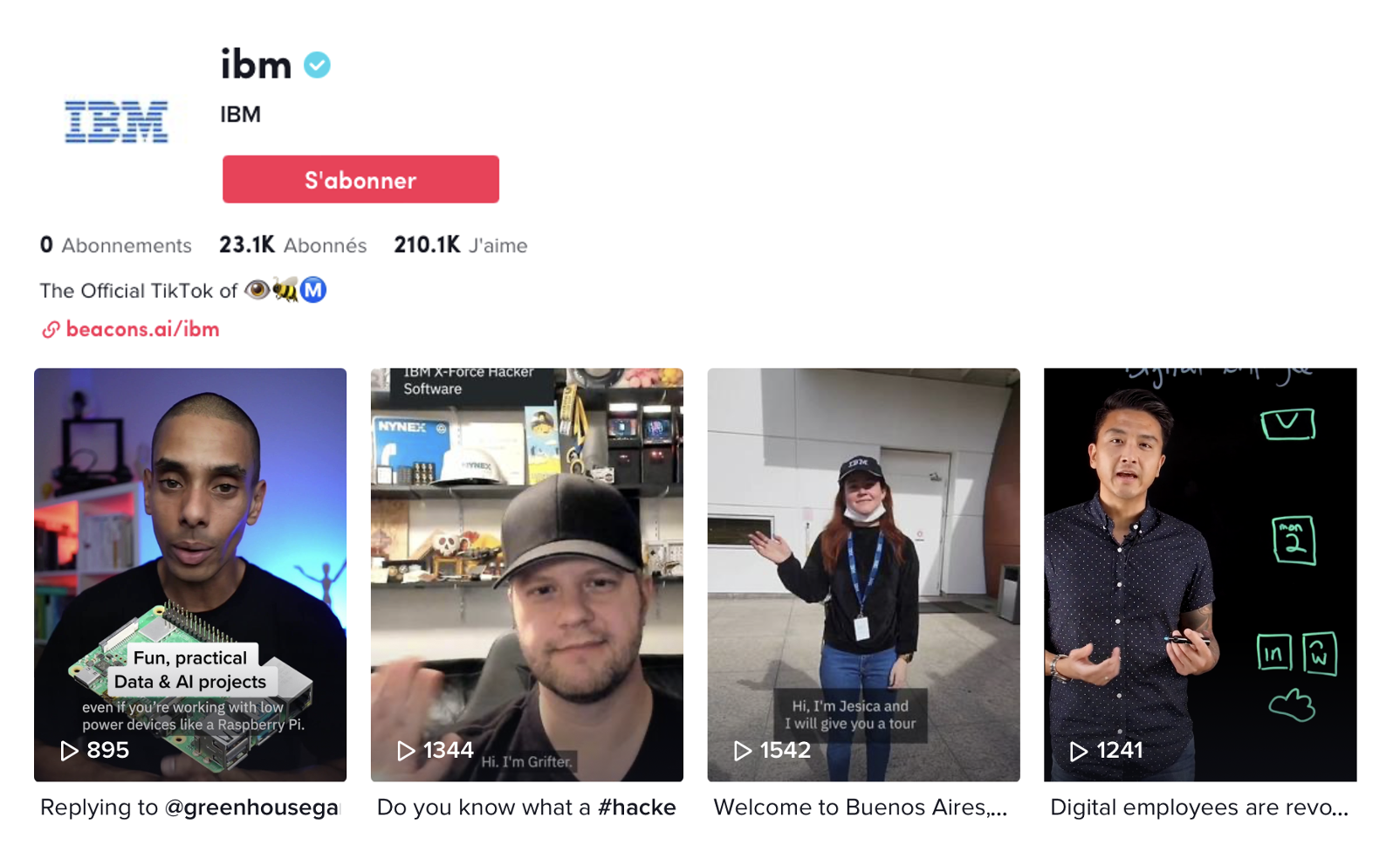 Diving right into TikTok trends and humour will likely feel like a considerable break from conventional corporate communications – intimidating! But companies like IBM (23k followers) or DHL (18.5k followers) are proof that a compromise can be found.  
Neither IBM nor DHL seem to follow trends, or provide much humour in their TikTok posts, but still boast 209k and 88k likes on their respective accounts. Videos respect the platform's format norms – they are short, edited to remain engaging, with appropriate tags and hashtags in their descriptions. They do not, however, rely on popular sounds or inside jokes – stressing instead their own image and style.  
Here, content is informative – focus is on ensuring the videos communicate a clear message about the company. This narrows the gap between TikTok and other areas of the corporate estate, creating clearer opportunities for integration.  
3. Dedicating a TikTok account to careers and company information is a great avenue for targeting young jobseekers 
Microsoft has a particularly popular account, followed by nearly 202.7k users and boasting nearly 1.5M likes. It produces on-trend content that focuses on showcasing employees and company culture. Videos include employees having fun in the office, showing off their pets on video calls, or filming their outfit of the day.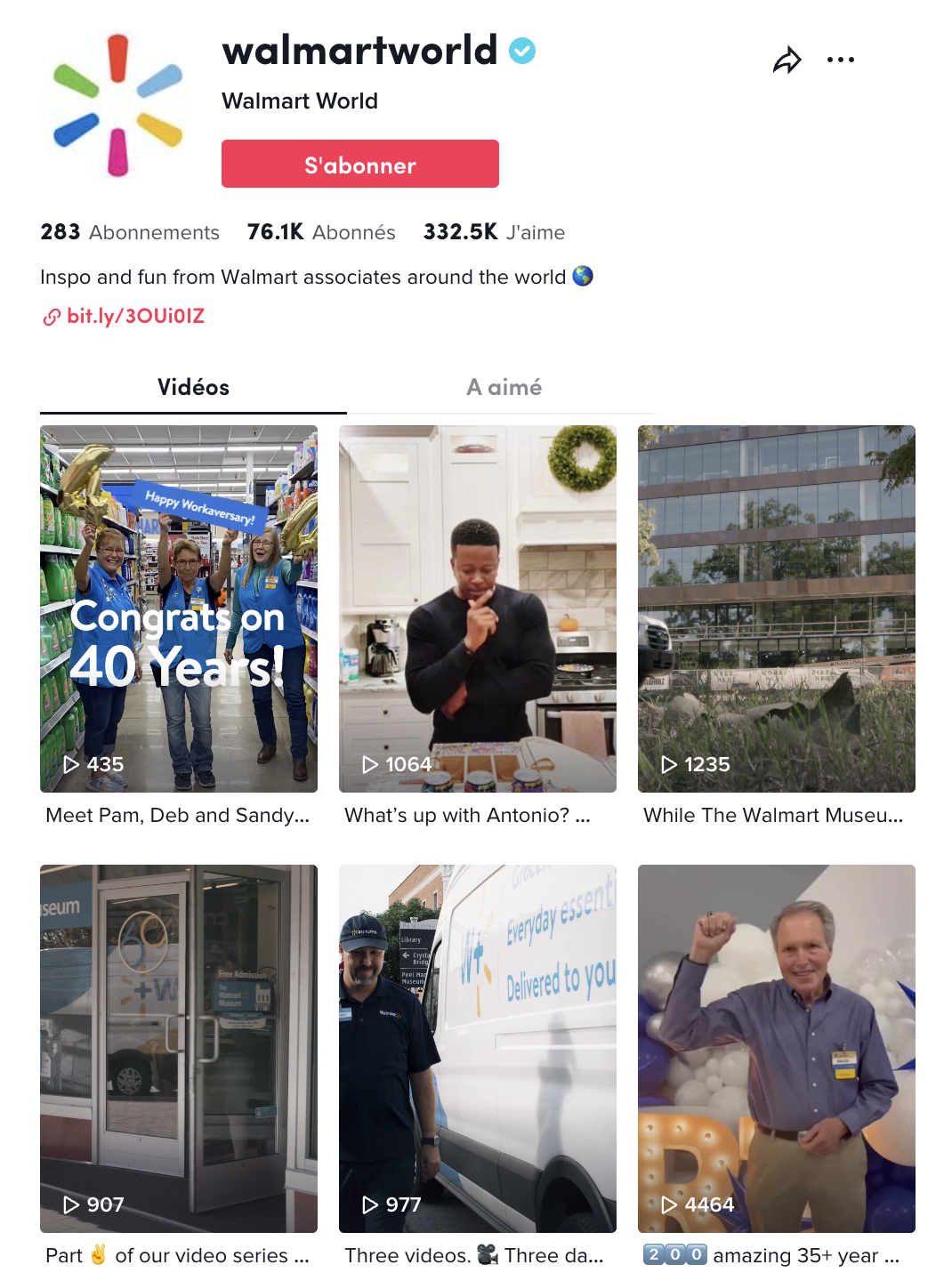 Walmart's @walmartworld account similarly focuses on employees and jobseekers. Humour is used, alongside references to current events in pop culture. Campaigns are boosted by hashtags, "duet" and "stitch" functions.  Such functions allow others on the platform to use all, or part of the video in their own post, and are particularly engaging for the audience, at times featuring popular influencers. 
It is notable that @walmartworld exists alongside @walmart, another popular account (over 1.3M followers) dedicated to products and services rather than corporate information. Building different accounts with clear delineation between product information versus marketing and communications, is another model that can work. 
TikTok for all and all for TikTok?
TikTok videos have their own sets of norms and expectations. Those might create challenges for corporate communications, but the platform is also a unique opportunity to target and reach young people. A corporate TikTok account does not have to be an entire world apart from the rest of your digital estate. Creating accounts dedicated to specific corporate purposes, and finding and curating your own approach can help bridge this gap.