ChatGPT : The future of AI on the corporate website

Caterina Sorenti
|
08 Feb 2023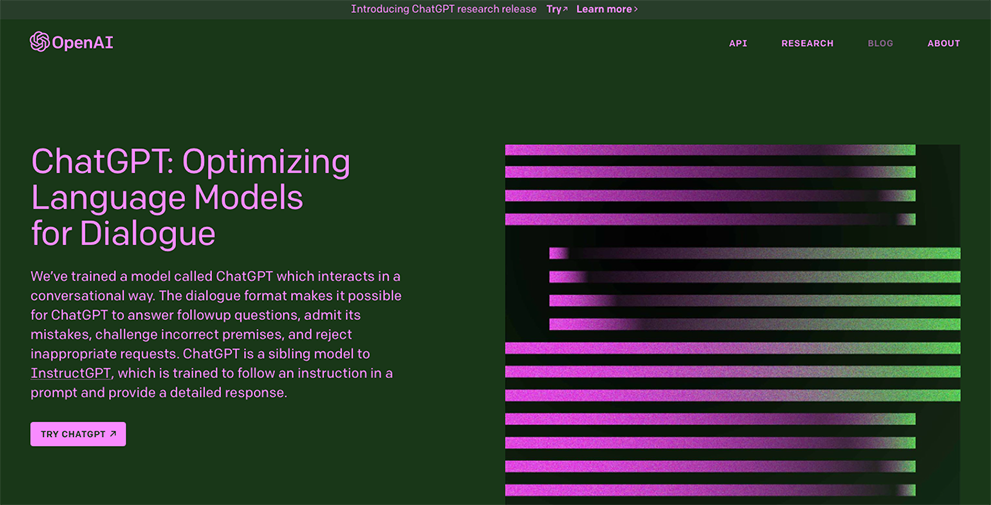 The ChatGPT home page, where it claims to 'provide a detailed response' to prompts
Rather than introduce the new AI technology 'ChatGPT' in our own human words, we went directly to the source and asked for its input. 
In response to the question 'Can you provide a brief summary of ChatGPT?', the bot said: 'ChatGPT is an AI language model developed by OpenAI. It uses deep learning algorithms to generate human-like text based on the input provided to it. The model was trained on a massive corpus of text data and is capable of answering questions, engaging in conversation, summarizing articles'.  
Though the AI has succinctly described its function, it is up to corporate communicators to decide how this new model will affect their digital estates. This question-and-answer based chat provides users with comprehensive and clear answers to almost all their questions, so could it function effectively within the corporate website?  
Perhaps it could create a new, highly efficient internal search engine, or it could generate short-form blog content to supplement areas of your site? These ideas may seem both innovative and enticing, but they are not without their problems. I spoke to Bowen Craggs consultants to highlight what we think are the potential uses for AI, and the risks.  
We took to ChatGPT hypothetically – in this case as if we were a member of the digital team at Microsoft – and asked it a few questions, to assess its reliability and usability for digital communications more generally.  
"Microsoft is a technology company that provides a wide range of products and services, including operating systems (Windows), personal computers (Surface), office software (Microsoft Office), cloud computing (Azure), gaming (Xbox), and more." 
Is Microsoft a sustainable company?
"Microsoft has taken a number of steps to become more sustainable and is considered a leader in sustainable technology by many experts. The company has committed to being carbon negative by 2030, which means it will remove more carbon from the environment than it emits, and has set a goal of using 100% renewable energy by 2025. Microsoft has also launched initiatives to improve sustainability in its supply chain, product design and operations, and has invested in new technologies to reduce its environmental impact."   
Are there any jobs available at Microsoft?
"Yes, Microsoft is a large company with a global presence and regularly has job openings in a variety of areas, including engineering, sales, marketing, finance, and more. To see the current job opportunities available at Microsoft, you can visit the company's career website at careers.microsoft.com. This site allows you to search and apply for jobs, create a profile, and receive notifications about new job openings that match your interests and skills." 
When is Microsoft's annual general meeting?
"Microsoft's annual general meeting (AGM) typically takes place in November or December. The exact date and location of the AGM are determined by the company's Board of Directors and are announced in advance to shareholders and the public. Information about the date and location of the AGM can usually be found on Microsoft's investor relations website or through a press release." 
At first, these answers appear shockingly accurate. The chatbot has an exact knowledge of sustainability targets and initiatives, and a comprehensive product/software catalogue. As the questions became more precise, however, it was the corporate digital estate that was being referred to, whether the Careers microsite or the Investor Relations section. Clearly, the corporate website is not losing its place as the main source of information (yet).  
There are still ways in which ChatGPT may have a future within the corporate web estate, and there are issues that come with this. At Bowen Craggs, we have been thinking about the potential crossovers between ChatGPT and corporate .com, and have identified the possibilities and problems, listed below. 
1. The potential for internal search on the corporate site
If ChatGPT could be integrated into the corporate site, an AI-assisted on-site search would be a potentially powerful tool.  
Internal search functionality has run far behind commercial search engine capability, however, and more advanced internal search engines are notoriously harder to maintain, so this provision could be difficult to implement. Although, if the AI tool, whether ChatGPT or something similar, could be trained on company data, it could provide an interesting solution – but the answer may not be entirely straightforward. Potential problems could include selecting data sets: the AI has to draw information from somewhere, and would this be internal data or external? Advanced internal searches that are also highly effective are hard to come by, and even harder to maintain, so could AI exacerbate this issue?
Though ChatGPT is still unable to generate legal technicalities or other precise information, it has already begun producing imagery and blog-style content. People are used to using tools like Grammarly, for example, opting for an accelerated production with human input engineered out of the process. This, however, takes it a step further: AI-generated imagery can produce 'photos' of people who do not actually exist, and can write up short-form editorial content. 
This could be useful on the corporate site: keeping blogs and other forums up-to-date with AI-generated content, or using the 'Lightricks' AI art app's 'text-to-image' function could refresh templates and formatting more efficiently. As they develop, these options will still require some level of human oversight and quality control.  
3. The SEO and search provider battle
Right now, corporate communications is focused on search engine optimisation (SEO) and how companies can get their content to appear high in the rankings. This could, if ChatGPT continues to develop, turn into a battle between the search providers, and companies would need to figure out how to get their content to be the prime source for ChatGPT. 
At present, ChatGPT's sources are hidden, but this may not be a long-term feature, and so companies will want to ensure that what they have to say about themselves is featured in the results from ChatGPT and at a high level (much like how featured snippets have become a trend with Google). This may result in having to amplify corporate content in a different way from the usual visibility trends and will depend on AI-specific criteria.
4. The danger of misinformation
There is more misinformation on the Internet than ever before, which remains a persistent threat to companies and audiences alike. This means that information verified by trusted third parties is increasingly important for stakeholders such as investors, journalists, and customers, as well as society at large. 
This raises an interesting question as ChatGPT develops. Where is the information it draws on coming from? Will it draw from company data sets, or will a whole host of external sources be available to it? If there are clearer, more accurate answers available, will ChatGPT select these over the company's (potentially bland) corporate copy? If so, ensuring that the information generated is credibly sourced will be crucial.  
The future may be closer than you think
Corporate communicators need to consider AI from the perspective of their users. How can ChatGPT provide answers which are trustworthy and comprehensive? How can it direct users across the site with greater ease and help them find the information they are looking for? This may be a development to consider in the future, but the rate at which ChatGPT is being used has surpassed expectation (they are launching a new premium subscription service), so this may not be as far off as you think.